Big Help Out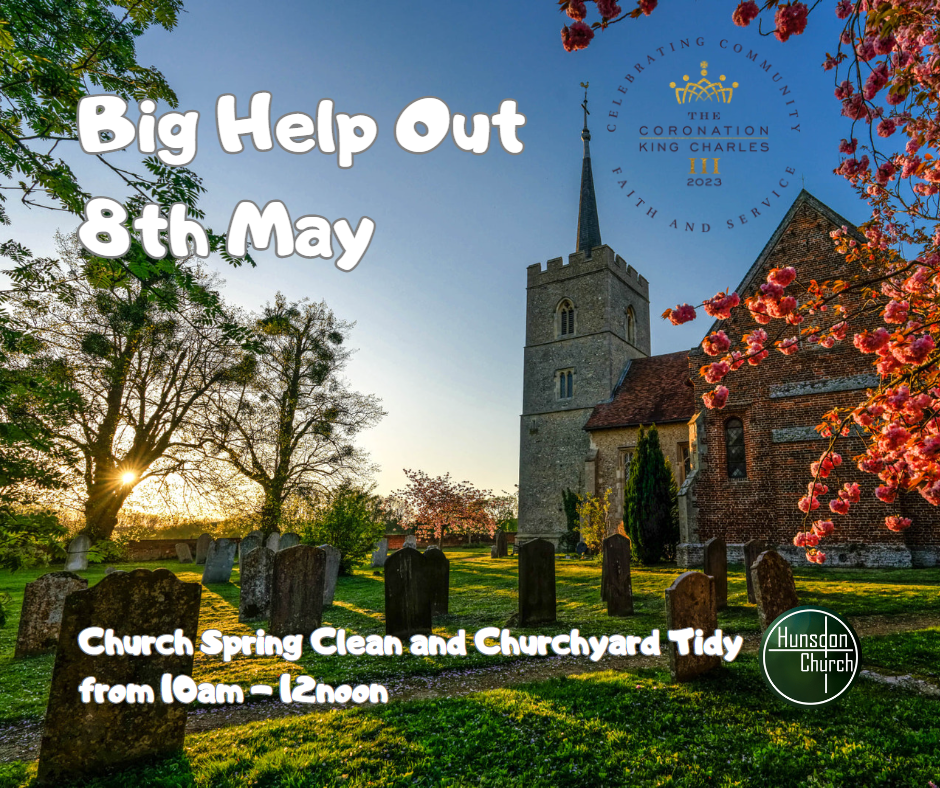 As part of the celebrations surrounding the Coronation of King Charles III, Monday 8th May has been set aside as a day for community service. The PCC is pleased to be sharing with other village organisations in this special opportunity, and we encourage everyone to get involved somewhere. You can sign up to be involved for wider community activity via the Hunsdon Community Facebook Hub, here.
At the time of writing, we are still working out all that needs doing, but we will add a list of what we expect to accomplish at the bottom of this post – do revisit it nearer the time to see whether there's something to suit your skillset!
Because it's a community effort, we'll provide drinks and doughnuts for all the labourers on the day. This is a fantastic opportunity for people to come support the maintenance of our historic building.
We look forward to seeing you there!
Our thanks to Paul Blake for the wonderful photograph.
Tasks…
If you're wondering how you can help, well… we already know that we need to clear the weeds which are growing up against the walls all around the church building, and there are always cobwebs and dust to remove within the building, too. There will plenty more to keep people occupied come rain or shine! Once we have a comprehensive list of tasks, we will post them here with a suggestion of recommended tools you might like to bring…
Inside
| Task | Tools |
| --- | --- |
| Clearing clutter in vestry | None |
| Clearing clutter in Carey Chapel | None |
| Cleaning cobwebs | Provided |
| Fixing noticeboard backing | Provided (drill / screwdriver) |
| Sweeping porch | Provided |
| Polishing Woodwork (tbc) | |
Outside
| Task | Tools |
| --- | --- |
| Clearing weeds from gullies round church walls | Gardening gloves, spade |
| Clearing weeds from Deacon grave surround | Gardening gloves, spade |
| Removing ivy from church walls | Gardening gloves |
| Removing ivy from churchyard walls | Gardening gloves |
| Adding new tape to carpark boundary | Provided |
| Filling potholes on carpark edge | Spade |